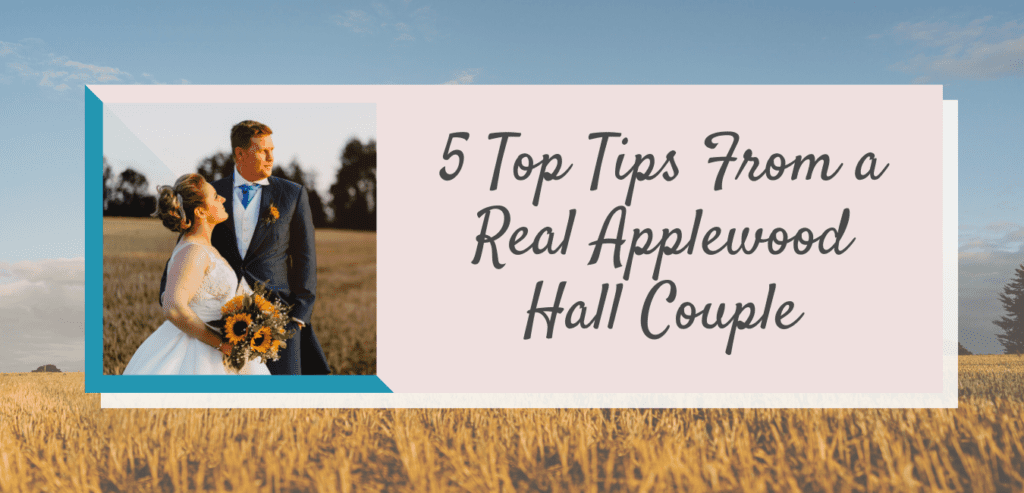 Our June #wedminwednesday Wedding Planning Q&A was a huge hit!
This week saw our first Q&A session with one of our real life couples, the lovely Claire and Craig, who celebrated their wedding here at Applewood Hall on 10th August 2019. We asked them to share their wedding planning journey.
I channelled my inner Oprah to quiz them about the run up to their big day and their wedding day itself. They shared their honest thoughts on the good bits, the bits that didn't quite go to plan and the bits that they want to do all over again!
This is what you'll hear in our Q&A session:
[00:33] Intro to Craig and Claire
[02:07] How long did they take to plan their wedding?
[04:06] Why did they choose a church wedding rather than a civil ceremony?
[05:09] When starting to look at venues, what 5 things did the venue need to have?
[08:32] How many venues did they visit in person?
[10:38] How did they find the venues they went to look at?
[12:49] How did they choose their suppliers?
[17:16] During their wedding planning, was there anything they disagreed on?
[21:04] Why did they choose to have a band rather than a DJ?
[23:11] What part of their planning did they enjoy the most?
[26:21] How did their wedding day come together and run on the day?
[35:14] What part of their day was worth every penny?
[37:08] Did they have a gift list?
[39:49] Where did they go on honeymoon? Did they go straight after their wedding day?
[42:21] Is there anything they wish they'd done differently?
[43:33] How are they going to celebrate their 1st Wedding Anniversary?
[45:22] What are their top wedding planning tips? (fave bit of the Q&A!)
There's so many handy hints! Check out the video here! Even if you watch just 15 minutes, I know you'll get heaps of invaluable wedding planning advice.
If you don't have time to watch the full Q&A session as it's just over 45 minutes long, here's a quick summary of Claire & Craig's top tips:
1. Don't stress – it'll all come together in the end. Make sure you enjoy the wedding planning process and don't put too much pressure on yourselves.
2. Spend a bit extra on your photographer if you can – they capture your whole day and help detail those little moments that you might have missed or forgotten about. An experienced wedding photographer will deliver so many beautiful photos from your day. Claire and Craig struggled to choose which to put in their wedding album! Andy Davison, Claire and Craig's photographer, also created a photo montage of their day to the soundtrack of their first dance song. It's all about these thoughtful extra touches.
3. Keep organised – whether you use a spreadsheet or a pretty paper planner, keep on top of what you're spending. You'll be surprised by how quickly all the little bits add up and your budget goes out the window!
4. Wedding fairs – when speaking to suppliers, recognise the ones that want to get to know you as a couple as these are the people who will go that extra mile, who will help guide you and make you more relaxed in the build up to your wedding. Don't be afraid to ask your suppliers to help suggest other suppliers too.
5. At the end of the night – when you're going back to your Shepherd's Cabin, don't invite everyone back to continue the party. You've just got married, make sure it's just the two of you!
---
FIND OUT MORE: