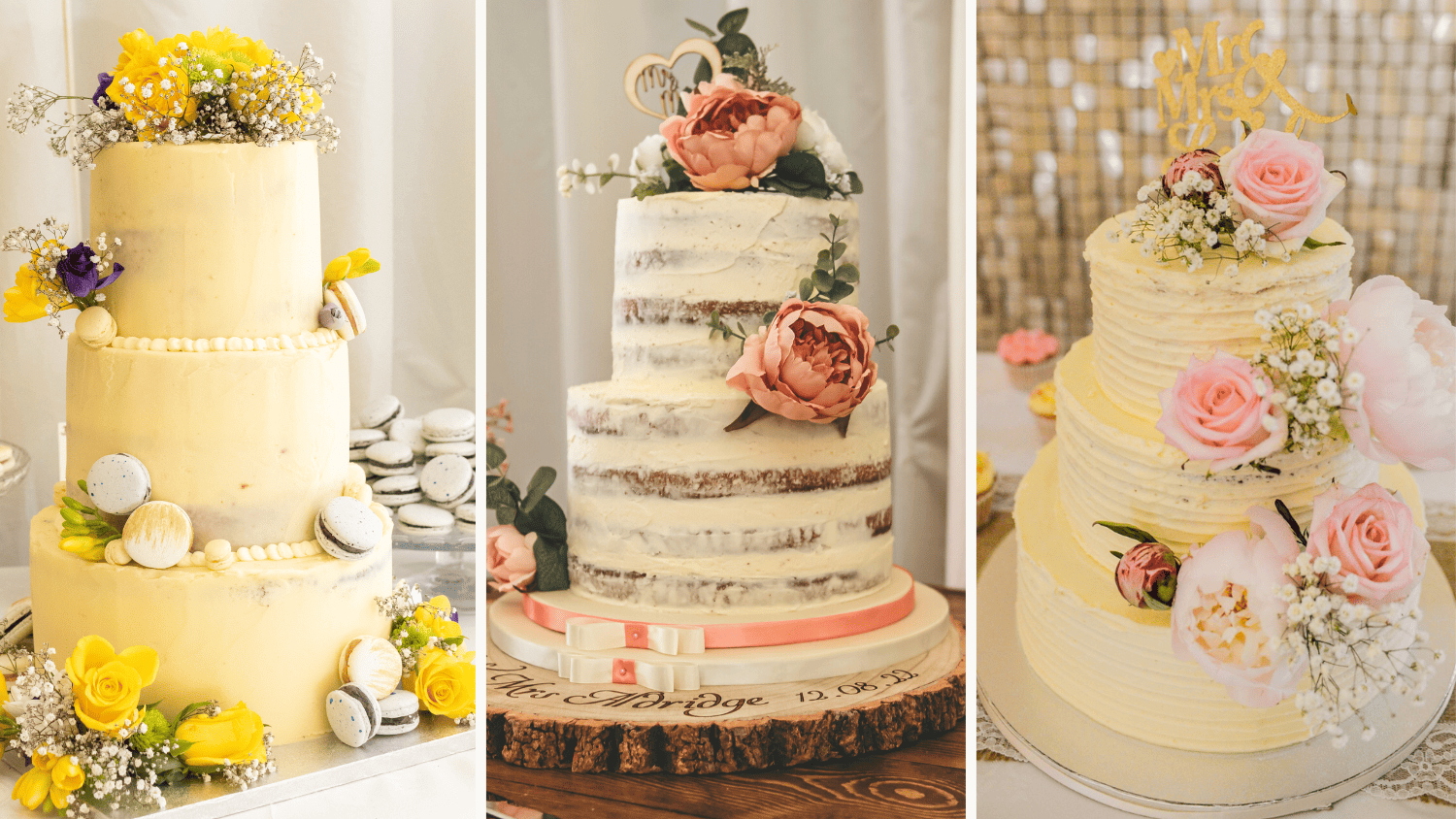 So.. Where do you start?
With such a magnitude of styles, flavours and decorations options, the possibilities are truly endless when it comes to wedding cake design! The advancement of complex and creative wedding cakes over recent years has rocketed and with SO many talented cake bakers in the industry, it can be a little overwhelming knowing where to start..
⠀⠀⠀⠀⠀⠀⠀⠀⠀
Fear not, we are here to provide you with some great top tips, advice and starting points when it comes to choosing & designing your perfect wedding cake!
The best place to start is at the brainstorming stage, this is the time to look around at all the incredible cake photos on the internet. You will soon find out what styles you are more drawn to. We've created a simple 1,2,3,4 step guide which will help guide you through these beginning stages:
1. By this point stage of your wedding planning, you're probably very familiar with Pinterest! Make a cake mood-board, brainstorm some ideas and get a better understanding of what style of cake is attracting you the most.
2. Another good thing to do is visit some wedding fayres (this is a good idea for your entire wedding planning process as a whole – not just for wedding cakes!) At wedding fayres you'll get to meet suppliers, see some amazing cakes on display. You may even get a cheeky discount code – A lot of suppliers will offer you a discount if you book them at the fayre.
3. You will then need to start doing some market research on wedding cake suppliers, find out who's in your local area, who has the best reviews? Who stands out? Who are your venues recommended suppliers? At Applewood Hall we can proudly and confidently recommend the baking talents of Sassa's Bespoke Cakes & Claires Custom Cakes, they have produced some truly incredible cakes for our couples over the years!
4. Once you've narrowed down your favourite bakers – enquire with them, explain your vision and get some yummy cake samples to try!

Flavours:
There is an extraordinary amount of different sponge & filling favours available to us in the current market, from the classic Victoria Sponge to the unique Earl Grey sponge. The sky is the limit when it comes what a talented baker can create!
Choosing the flavour of your wedding cake ultimately comes down to your personal preference. Afterall it is YOUR wedding cake and it should be a combination of yours & your fiancé favourite flavours.
If you're like us and love all flavours of cakes it may be hard to make a decision so something to consider perhaps is the season your getting married in. If your having a summer wedding, look at light, fluffy, fresh flavours like those from the citrus family. If your wedding is in the cooler months, treat your guests to the warm chocolates, coffees or even liqueur infused flavours!

Savory options:
Not got a sweet tooth? That's no problem, we've seen many different alternatives over the years and they make for a unique staple and talking point for years to come.
You could have a cheese cake (no not the New York style) were talking full wheels of cheese stacked on top of each other and served with crackers.
Another option is to have a giant pie or giant pork pie as your wedding cake replacement. They are definitely crowd pleasers and would work well with cheese wheel cakes also!

Design:
The sky is the limit when it comes to wedding cake design. We are firm believers that there is no right or wrong way to design a wedding cake. It should reflect your creativity, imagination and style! No two wedding cakes are the same, they are unique and bespoke every time.
The main questions to ask yourself when your designing your wedding cake are:
– Your colour scheme/theme – this is a big one, make sure you have you wedding theme finalised before designing your wedding cake as you will want this to match the theme of your day.
– Icing – What icing do you want? Fondant icing? Buttercream? Semi-naked icing covering or a fully covered cake?
– Decorations – How do you want your cake to be decorated? Do you want to keep it simple? Do you want it to be extravagant? Perhaps speak to your florist about providing additional flowers to be used in your cake decoration.
– Wedding toppers – Do you want a classic bride and groom fondant figure on top of your cake? Do your want a 'Mr & Mrs' sign? or again, are you thinking of having your florist provide you with additional flowers?

Handling dietary requirements:
It's important to remember that this is your wedding day and your wedding cake. It should be a reflection of your favourite flavours and tastes. You shouldn't feel obliged to compromise that to cater to your guests dietary needs.
Wedding cake suppliers legally must provide the venue with a list of ingredients and allergens in the cake, which the venue should then display with the cake when it is served so it's clear to all guests who can and can't eat the cake.
If you would like to cater for all of your guests dietaries, there are ways of getting around this without having to change your main wedding cake; you could look at adding additional cupcakes or side cakes that are gluten, dairy & nut free as this would cover a big bulk of common allergies and would also cater for Vegans.

FAQs:
Who are Applewood Halls recommended wedding cake suppliers?
Applewood Hall proudly recommends Sassa's Bespoke Cakes & Claires Custom Cakes
Do I have to use a wedding cake supplier?
Ultimately no – we have lots of couples who have keen bakers in the family who offer to make a wedding cake for them. However, if you're looking for a more intricate design – we would recommend using a professional supplier.
How big should my wedding cake be?
This will ultimately depend on how many guests you have attending your wedding and if you want any cake left over to take home, please see the image below for a rough sizing guide for you to start from: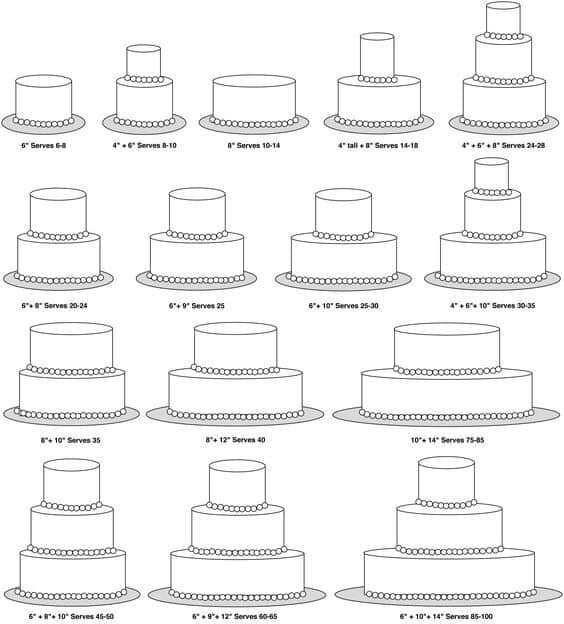 Do I need an allergens list on display?
Yes – any reputable wedding cake supplier will be used to being asked for this. Legally wedding cake suppliers have to provide the venue with an ingredients and allergens list when they deliver the cake.

Useful links: 
The Ultimate Wedding Cake Guide
Top Tips for Making Your Own Cake
Wedding Cake Suppliers – Norfolk

To view our full 30-minute 'All Things Wedding Cake' useful tips and advice, head to our Facebook Page to watch!