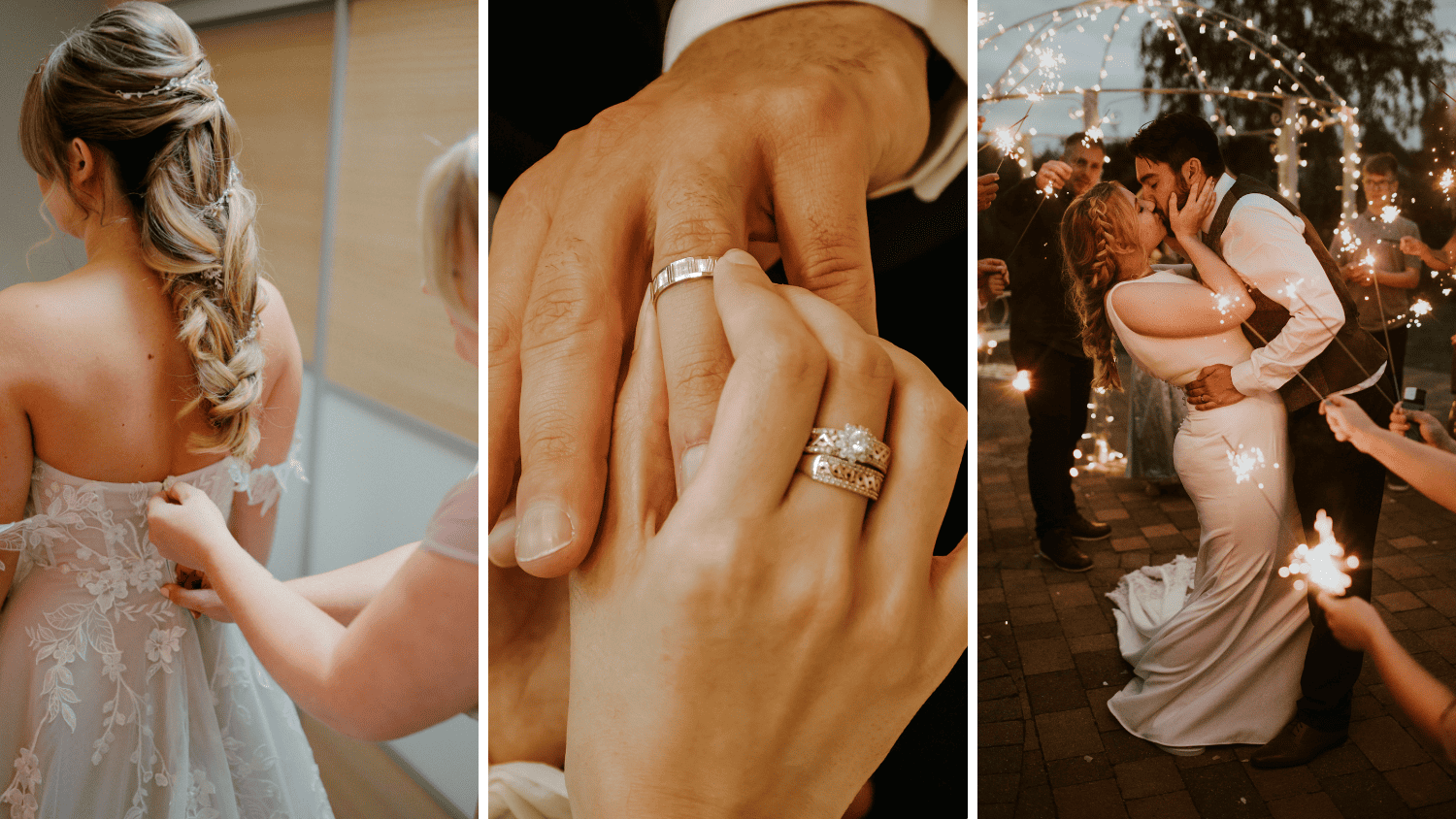 Wedding days are huge occasions and will be one of the most important days of your life – which we understand can be incredibly daunting for some.
Fear not..
We are here to provide you a in depth guide as to what you could typically expect from the moment you wake up to the moment you put your feet up at the end of the night as newlyweds!

Early Morning:
Rise and shine – you're getting married today!
There will be a lot going on first thing before your wedding begins so make sure you remember to fuel yourself for a big day with some good breakfast to start of your day!
Hairdressers, make up artists, photographers will all be arriving for the morning preparations. All with a glass of fizz or a mimosa in hand!
It's now that time.. time to step into the dress, strap up the shoes, fix the cufflinks and attach the buttonholes. Your ready to be married!
Whilst your busy getting ready, your wedding coordinator will be on hand at the venue and will receive all of your suppliers, whilst completing thorough and final checks to ensure everything is ready for the first arrival of your guests and will be ultimately be on hand to assist you in any way you need!
The legal proceedings begin with individual meetings with the registrars prior to the ceremony commencing. They will be double checking all their information is correct and talk you through what will happen at each stage of the ceremony. They will also be able to answer any last-minute questions you might have.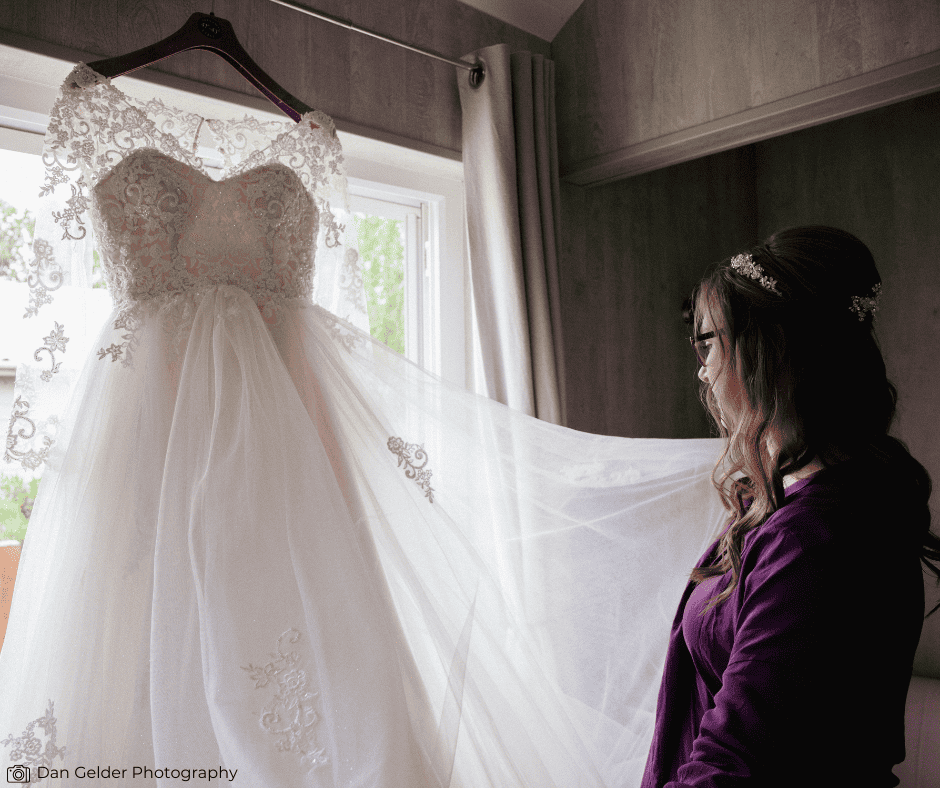 Your Ceremony:
'I now pronounce you..'
Your guests will be invited to take their seats for the ceremony, whilst your wedding playlist is playing the background.
One eagerly awaiting partner will be front and centre at the top of the isle. Whilst the other is taking a deep breath to make their grand entrance.
The entrance music begins playing, your guests will be asked to stand, and you will begin the most important walk of your life – the one up the aisle.
The legal proceedings begin, your vows and commitments to one another are sealed by the giving and receiving of the rings.
Once you have had your first kiss as newlyweds to massive applause, you will then be asked to complete the signing of your marriage certificate to complete the legal marriage.
You are then pronounced as the new happy couple and you will lead your guests out of the ceremony and into your drinks reception.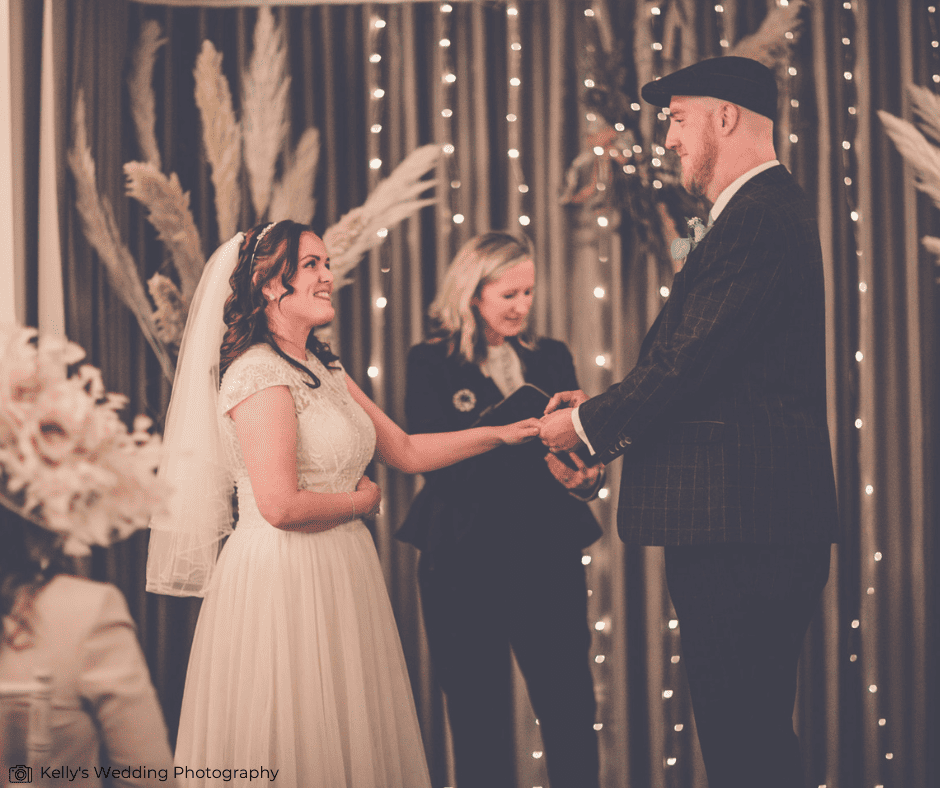 Drinks reception:
CONGRATULATIONS – YOU'RE MARRIED!
At Applewood Hall, once everyone have led your guests out of the ceremony room and into the garden, we like to go straight into a confetti throw as everyone is still in the moment, everyone is still attentive and engaged and it just makes for some amazing photos and is a true celebration moment for you both.
Your wedding coordinator will work with your photographer to get the guests all in position before you are showered in confetti!
But by this point.. I think your ready for a drink, right?
The bar staff are already one step ahead of you, they will have your reception drinks poured and ready to go for you and all of your guests and your wedding coordinator will be there to greet you at the end of your confetti line with 2 glasses of bubbly in hand.
Typically, you will have around 1.5-2hrs max for your drink reception, which may sound like a long time but trust us – this will fly by!
This is a lovely time to family and friends to mingle, play some garden games, and have photos taken either candid shots of everyone having a good time or group shots with your nearest and dearest and simply relax, enjoy your time and shake off the adrenaline from your wedding ceremony.
TOP TIP: Group shots will take around 5 minutes to gather people, 2 minutes to get everyone in place, 1 minute to take the photo. That's 8 minutes per group shot and you will have approximately 1 hour to get your photos.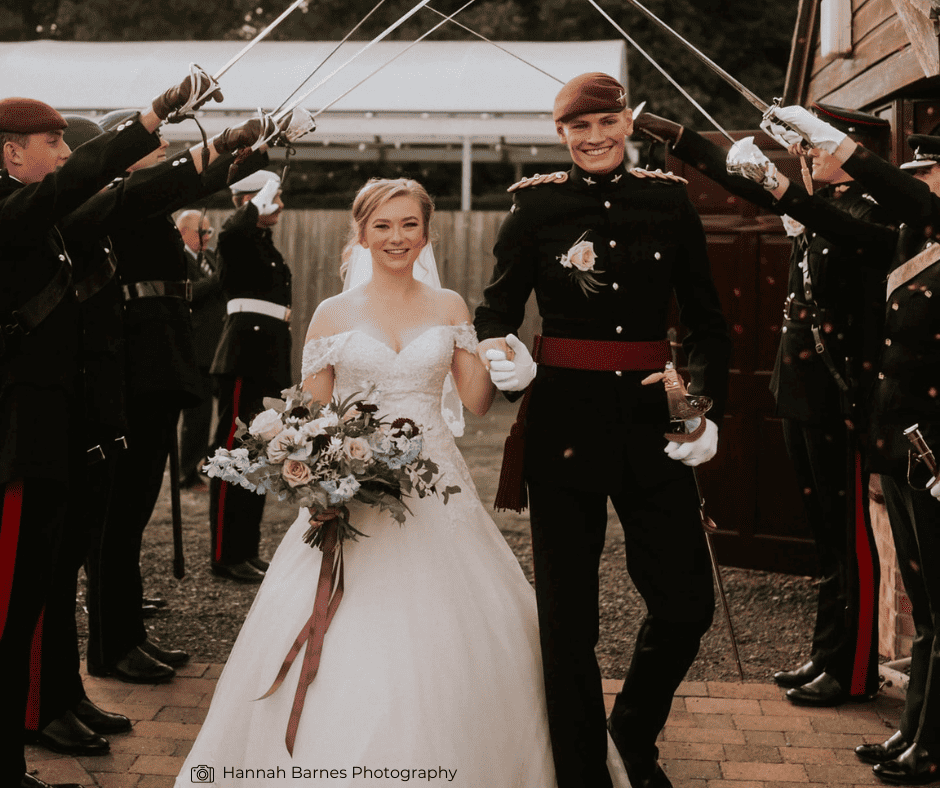 The Wedding Breakfast:
(No, we don't mean the bacon and eggs kind)
It's called a wedding breakfast because it is the first meal you have as a wedded couple!
All of your guests will be seated first, which allows you both to have a moment to yourselves. Your guests will then be asked to be standing whilst your wedding coordinator is hyping them up for your grand entrance as the new happy couple and thunderous applause and cheers whilst you both make your way to your seats.
Everyone will then be asked to be seated so food service can begin.
We would typically allow anywhere from 1.5-3 hours, depending on your chosen style of food and number of guests to be served. For example a 3-course sit down meal for 100 people is going to take double the time of a buffet for 50 people.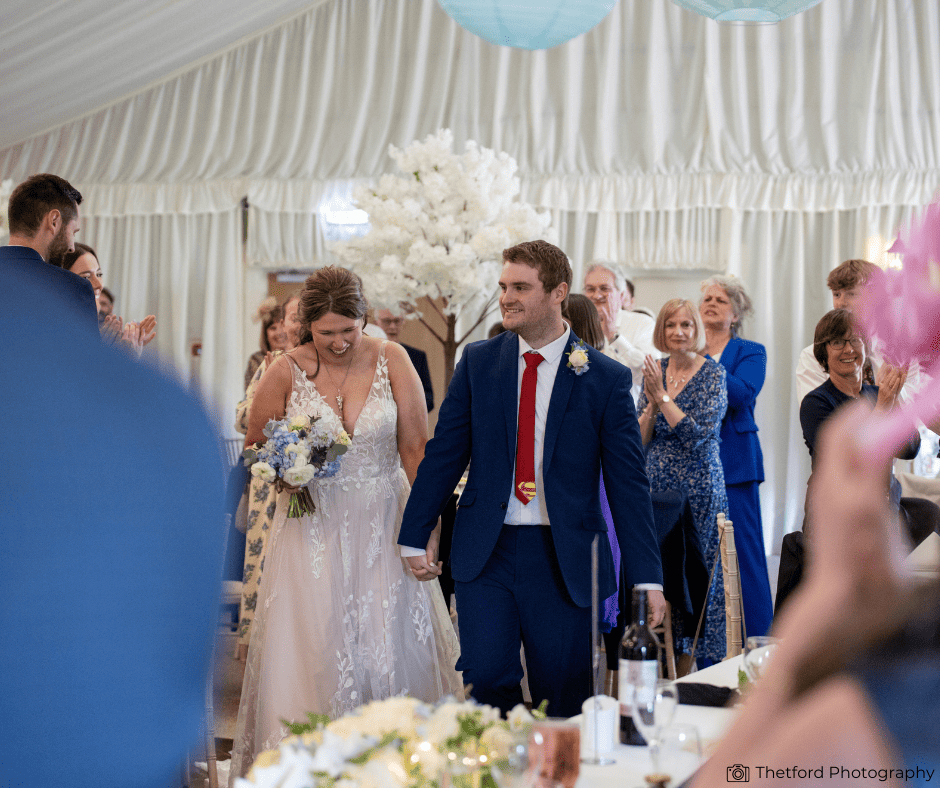 Speeches:
**CHAMPANGE POPS**
When you hear the bottles popping and the bubbly being poured in the background.. Get those tissues ready, it's time for the speeches!
Traditionally speeches would be from The Groom, Father of the Bride and the Best Man.
However, at Applewood Hall we are firm believers that tradition goes out the window for speeches and there should be no set rules for who should give a speech. You can have as many or as little as you like, all that matters is that they are spoken by those who are most important in your lives.
TOP TIP: You should aim for each speech to be around 3-5 minutes.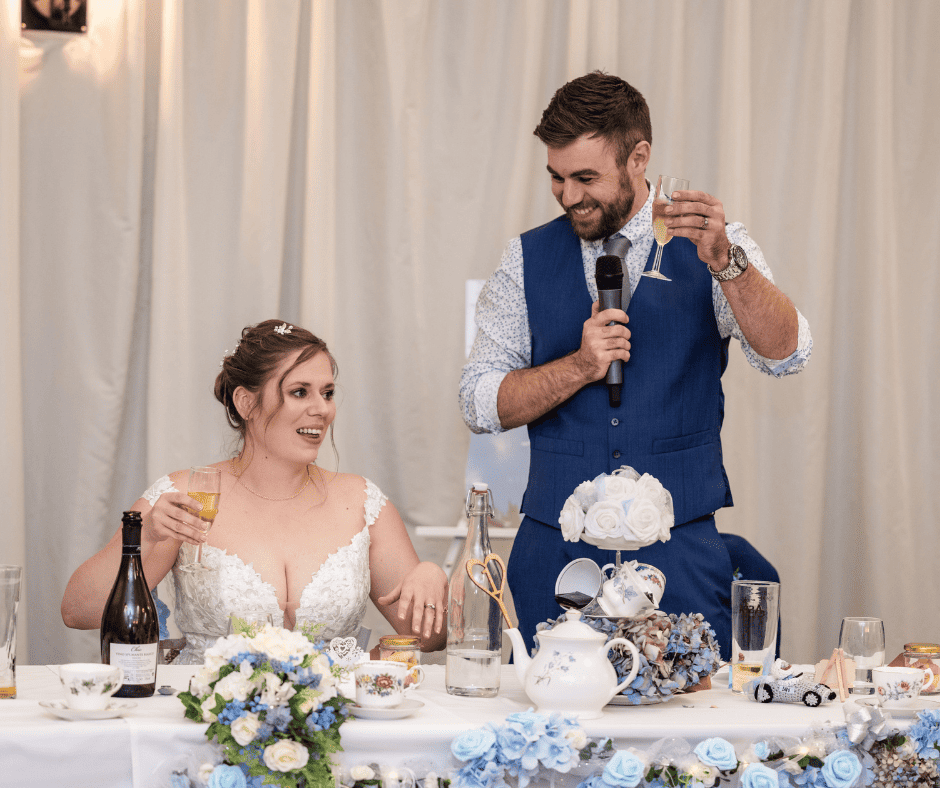 You time:
'A moment of newly wedded bliss'
After the wedding breakfast and speeches have finished, there is usually a little down time whilst everyone is in a food coma.
This is a perfect opportunity for you both to step away for a moment with your photographer and have some YOU TIME not only because it's important to try and get an hour to yourselves but also to get those treasured couple shots, just the two of you.
Being in the Norfolk countryside, we are blessed that we have some amazing photo spots within a 1 minute walk!
Whilst your away, behind the scenes, your evening entertainment whether that be a DJ or a band, they will be arriving to set up and getting ready to party the night away with you on your return!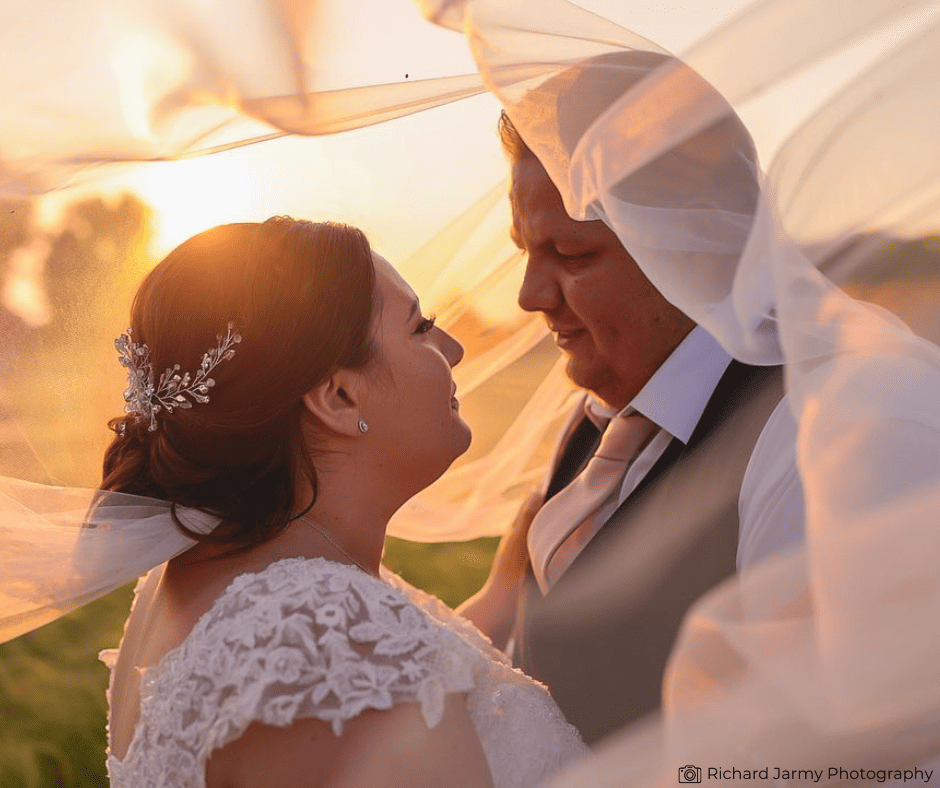 The Party Begins:
'Don't stop me now.. I'm having such a good time, I'm having a ball'
The days formalities are now complete and its time to let your hair down and party the night away with your nearest and dearest.
This would be the time where any additional evening guests you may have would start arriving.
The evening celebrations typically start with the cutting of the cake a tradition which dates back 100s of years and symbolises the couples commitment to share everything in their lives (fun fact)
The cake cutting naturally leads into the first dance.. Your DJ or Band will be on hand to get you on the dancefloor, your photographer is in prime position and your family and friends are surrounding the dancefloor to make sure they get the best view. Your chosen music will start playing and
Once you've had some time to yourselves on the dancefloor, your guests will be invited to join you and then the party really begins..
The volume goes up, the lights go down and it's time to dance, drink and get lost in a bubble of love.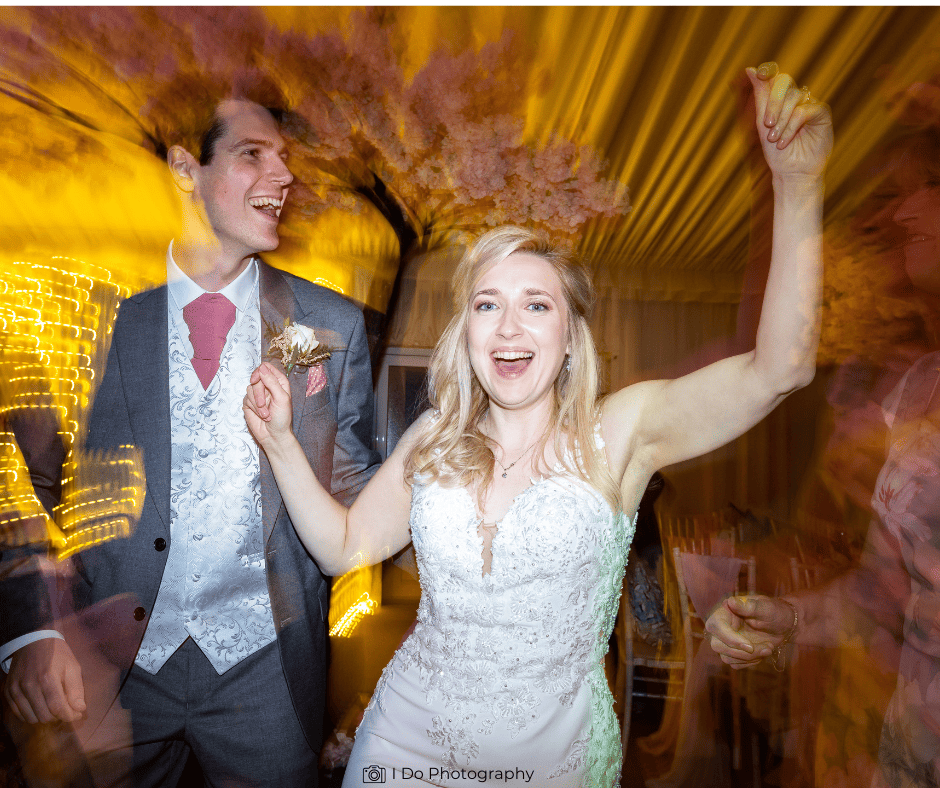 The Evening Concludes:
'Thank you and goodnight'
And just like that they day is complete!
All of your guests have departed, the bar shutters are being pulled down and you can finally put your feet up after what will have felt like a long and emotional day.
At Applewood Hall, we don't require you to clear up on the eve of your wedding, so it's one less thing to worry about. (The exception of this is if we have a booking the following day – to which you would be made aware of well in advanced)
With your wedding day complete, that can only mean one thing…. IT'S HONEYMOON TIME!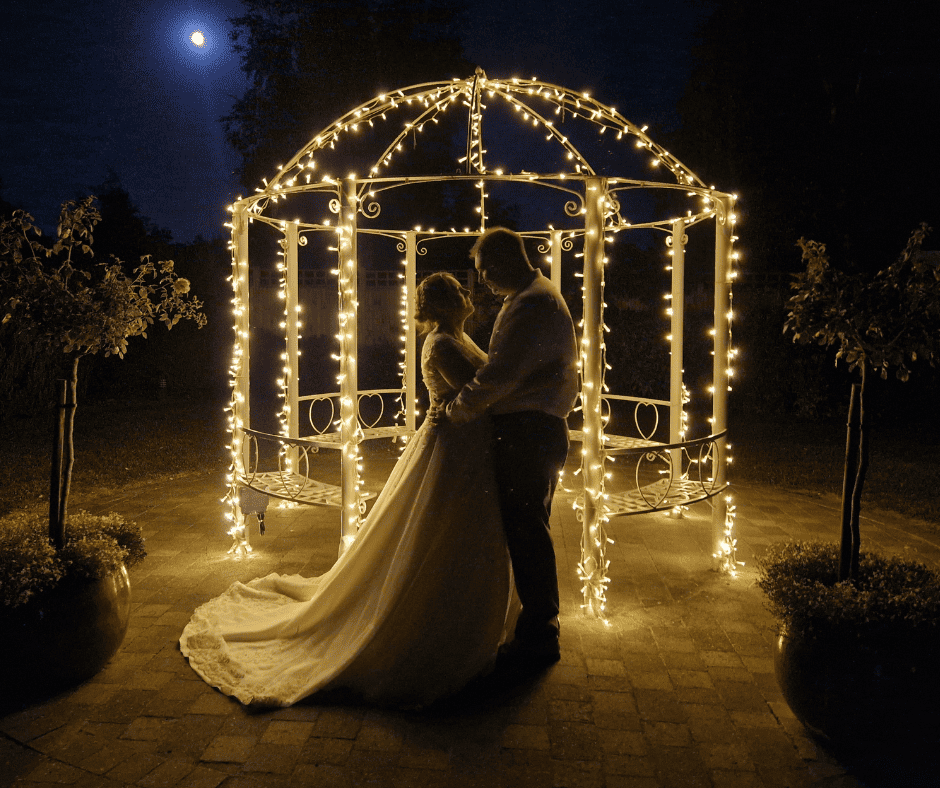 To view our full 30-minute 'From AM to PM' packed with useful tips and advice, head to our Facebook Page.