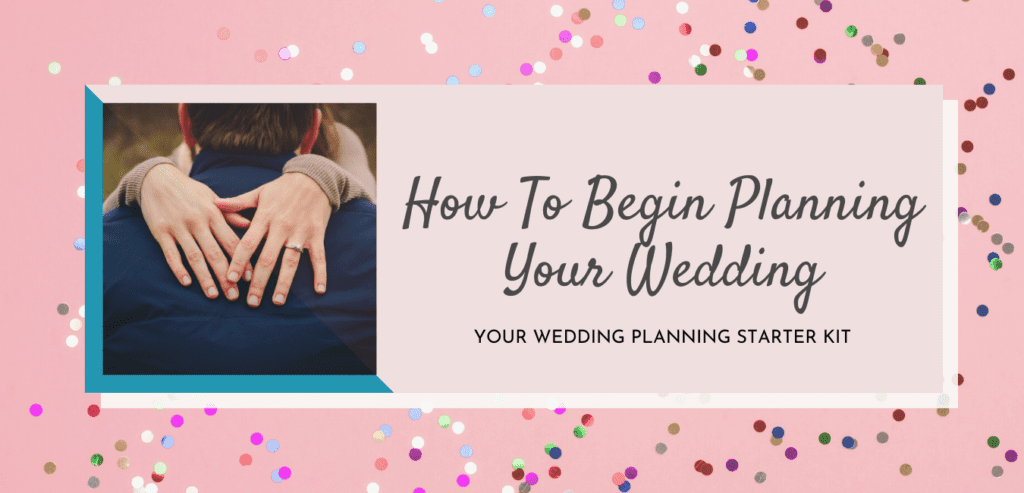 You've just got engaged, but how do you begin planning your wedding?
Wedding planning may feel a bit overwhelming right now, but it can easily be broken down into manageable, bite-size chunks.
We've helped hundreds of couples plan their wedding, and the hardest part is sometimes knowing where to start. So we thought we'd share our 5 step guide on how to begin planning your wedding. Consider this your Wedding Planning Starter Kit!
STEP 1 – Enjoy being engaged
We thought we'd start off easy! Bask in all the lovely excitement that being newly engaged brings; the cards you'll receive, the celebratory fizz, the excited chatter with friends and loved ones, as it will soon calm down.
Try to tell people your news together so that you can see those happy faces (social distancing rules apply)! And take lots of photos of the two of you during this special time too.
Our Wedding Planner, Kiera, got engaged just a few months ago and decided to have an engagement shoot with her fiancé.
She says, "We don't have a lot of photos of us together, so thought this would be the perfect opportunity to persuade my fiancé (still sounds weird!) to have some taken. We didn't want anything too formal, so a walk with Frankie Sausage in our favourite park was perfect. Due to lockdown 2.0, we didn't manage to see all our loved ones in person, so it was lovely to send an email with a couple of photos. They also made good Christmas presents for the parents and grandparents!"
Photo credit: Cara Zagni Photography
---
STEP 2 – Set a budget
Setting a budget is a good starting point as it will help you make other decisions, such as deciding on your must-haves, those things you're not willing to compromise on. Perhaps it's treating your guests to an open bar, having a fancy videographer or that exotic honeymoon you've always dreamed of.
Work out how much you feel comfortable spending on your wedding. Will anyone else be contributing? How much you will be able to save over the coming months? Now is the time to establish this, so that you can factor it into your budget.
Did you know the average cost of a wedding in the UK amounts to a cool £16,000? Add in the engagement ring and a honeymoon and the cost rises to just over £20,000.

Source: The UK Wedding Report 2020 from Bridebook
Top Tip: Remember to include a 10% contingency for any unforeseen costs that inevitably crop up or those must-have splurges!
---
STEP 3 – Draft your guest list
With your budget now set, it's time to start thinking about who to invite to your special day. If you're working to a limited budget, you might not be able to wine and dine as many as 200 guests. But by creating a guest list that works within your budget, you can afford to splurge on a few little luxuries along the way.
Begin with your immediate families, then add those close family members you really want to have there. Next, move on to your closest friends—the ones you simply can't imagine getting married without. How's that looking?
Did you know the average number of reception guests is 98 with an additional 51 evening guests, which means the average couple invite 149 guests to help them celebrate their special day.

Source: The UK Wedding Report 2020 from Bridebook
Top Tip: If you're struggling to keep numbers down, ask yourselves if you've seen that person in the last 12 to 18 months, or at least had a nice, long phone conversation if they live far away? If the answer is no, then you probably shouldn't invite them.
---
STEP 4 – Find your wedding style
Before you try on a single wedding dress, book a photographer or sample a bite of wedding cake, look at the big picture and imagine the style and vibe of your ideal wedding.
Is it a romantic outdoor ceremony with blanket-covered hay bales in the middle of summer or a cosy winter ceremony in a traditional rustic oak-beamed barn?
While you're picturing your perfect wedding, here are some key questions to consider;
Big (everyone you know) or small (just close friends and family)?
Outdoors or in?
Time of year?
Modern, classic, romantic, vintage, rustic or all-out glam?
Fancy, casual or somewhere in between?
Don't forget to check out bridal magazines, social media (especially Pinterest!) and visit a wedding fair or two.
Top Tip: Don't limit yourself to magazines and social media. Something as unlikely as going to your favourite 'date night' restaurant or a family heirloom can spark your creativity. Always keep your eyes open for inspiration!
---
STEP 5 – Start your venue search
Norfolk is blessed with hundreds of unique and beautiful venues to choose from and now you know your guest numbers, budget and style you can fine-tune your search!
Don't forget that your wedding venue will determine your wedding date, location and your maximum guest numbers, so make choosing your venue a priority. It's perfectly normal for couples to book their chosen wedding venue 12-18 months before their wedding date as popular places get booked up in advance.
Doing some online research is a good place to start, using filters and search terms that are specific to what you're looking for and the area you're searching in. Don't forget to read online reviews too!
Once you've selected a few venues that meet your requirements, it's time to arrange a showround or viewing. This allows you to get a proper feel for the venue, to soak up the atmosphere and to meet the team who'll be looking after you. Use this visit to ask as many questions as you need and certainly don't feel pressured into signing anything on the day… unless you're absolutely certain its the right fit!
Top Tip: To start with, limit your visits to around 3 venues. Visiting several venues all at once will leave you feeling confused, overwhelmed and eventually, they'll start to merge into one!
---
So, how do you feel now? More confident that you know how to get the ball rolling? Then you're ready to begin the first steps of wedding planning!
Good luck!
Kiera x
For more wedding tips & inspiration, why not follow us on Instagram?