How to set the mood and get the party started at your wedding reception?
Let's set the scene; you've had your beautiful ceremony and you're officially married, eaten lots of lovely food at your wedding breakfast and laughed heaps during the speeches, but now what?
There's likely to be a bit of time before your evening guests arrive. We call it the 'twilight zone', that slightly awkward time between the end of the wedding breakfast and when your evening party really gets going.
We thought we'd share our 5 top tips to help make your wedding reception an epic night to remember for you and your guests.
Top Tip #1 – Music
This might be an obvious starting point but music has a huge part to play!
Whether you opt for a live band or a DJ for your after-party, it's a good idea to create a playlist of your favourite party tunes that will get everyone on the dance floor right from the start. You could ask your guests to make a request when they RSVP or as they arrive on the day. It's also important to trust in your band or DJ to judge the mood. With years of experience at weddings, they'll know the songs that guests can't resist!
But let's not go crazy too soon as you may want to 'christen' the dance floor starting with your first dance, which we'll come back to in Tip #4. This could be a good time to play a few songs for the children and let them takeover the dancefloor. Baby Shark, Frozen and Taylor Swift are guaranteed floor fillers! We've got more advice on how to keep the kids entertained here.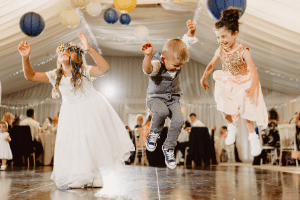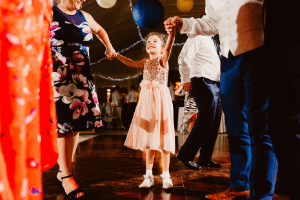 ---
Top Tip #2 – Lighting
As the evening starts to fall, this is a great time to set the scene with some softer lighting. It also hides a multitude of sins if you've had some messy eaters and the table linen doesn't look as pristine as it did at the start of the day!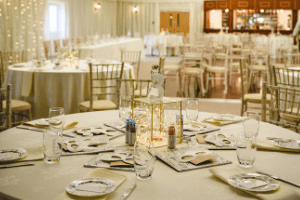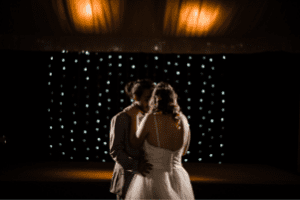 The fairy light canopy here at Applewood Hall really starts to twinkle, helping to create a romantic atmosphere. And we love it when couples have lights as part of their table centres, something as simple as battery powered copper lights wrapped around your flowers or in empty gin bottles create a lovely pop of light and are super affordable.
---
Top Tip #3 – Welcoming Your Evening Guests
We've all been an evening guest at a wedding before, so know that feeling when you arrive and feel a bit awkward because you're not sure where to go? Make sure your evening guests are made to feel as welcome as your day guests. Think about the time you want them to arrive and perhaps greet them with a glass of bubbles or maybe even a cheeky shot if your budget allows.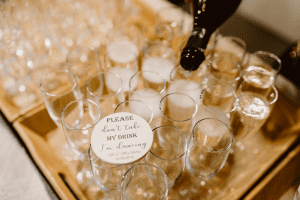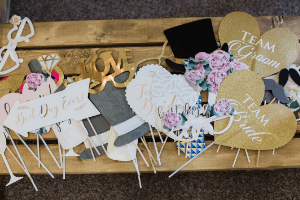 If you are planning on having additional activities for the evening like a photobooth, have you thought about asking your bridesmaids and groomsmen to greet your evening guests with a silly prop and direct them to have a photo? This will get your evening guests feeling more relaxed and in the mood to have some fun!
---
Top Tip #4 – Your First Dance
The first dance is the official opening of the dance floor and the one that all guests can't wait to see. This can be quite daunting for some couples particularly if you're not a fan of being centre of attention, so our advice is to keep it short and sweet.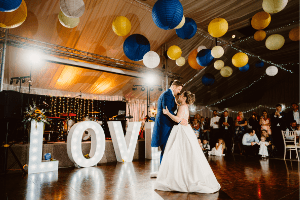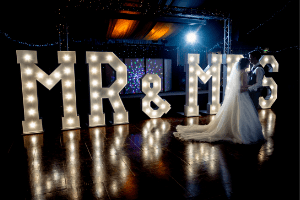 The music you choose could be made into a medley, starting with something that's meaningful to you both and then halfway through remixing it to your favourite floor filler and using this as a cue for your guests to play a part and join you on the dance floor.
Personal and memorable – double win!
---
Top Tip #5 – Outfit Change!
What about an outfit change? Lots of brides are now changing out of their beautiful wedding gowns and slipping into something slinky for the evening, especially if they intend to dance the whole night long. It might also be a nice gesture to provide some flip flops for the ladies, so sore feet aren't an excuse for avoiding the dance floor. Grooms, now is the perfect excuse to take off your jacket, roll up your sleeves and undo your top button!
Once you've changed, this is the perfect opportunity to make a 're-entrance' to your favourite party song and get straight on the dance floor. If you don't want to be the centre of attention, why not give your bridesmaids and groomsmen a heads up so they know to join you? Here are some suggestions that we think would make the perfect entrance party tune: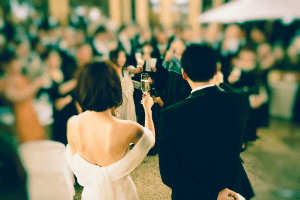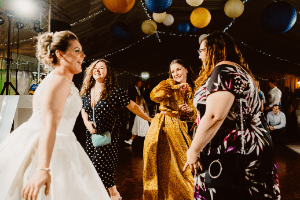 ---
Hopefully these tips will get your wedding party off to an amazing start – we hope you have an incredible night and create some truly unforgettable memories!
For more wedding tips and inspiration, why not watch our #wedminwednesday sessions. Covering a whole heap of wedding planning topics; from choosing your wedding food to getting creative with your venue styling, you'll be an expert in no time.